Potatoes O'Bacon Egg Bake
I orginially whipped this up for my daughter's Mario Bros party, serving as a Yoshi Egg Bake. The party was the day after my second round of Whole30 so I wanted to do my reintroduction so this is completely Whole30. Everyone was loving the breakfast spread and they were shocked that everything was super clean and healthy. People have been requesting the recipe since January but I didn't have it because I never wrote it down. So I was finally able to recreate it and then came the discussion of what to name it, and hilarity ensued. Two of my besties, Katie and Johnna (I warned you both that I would post these texts), threw out a ton of options, all of them documented.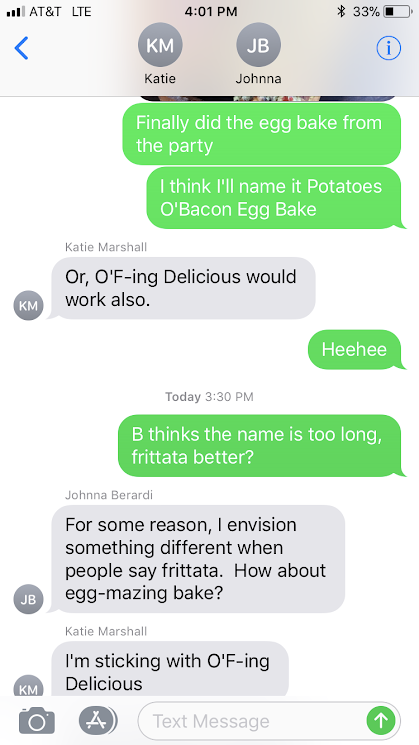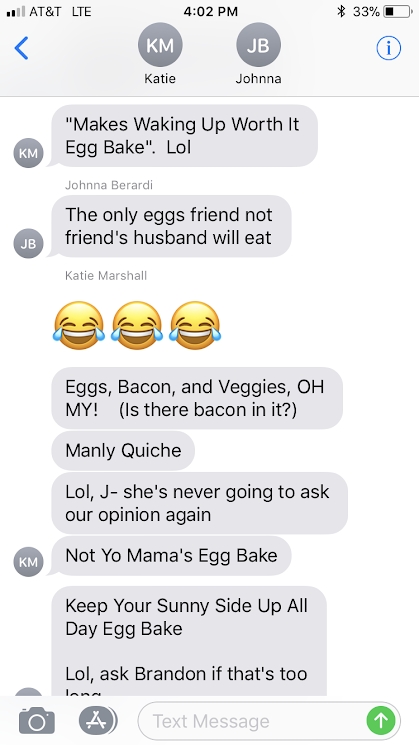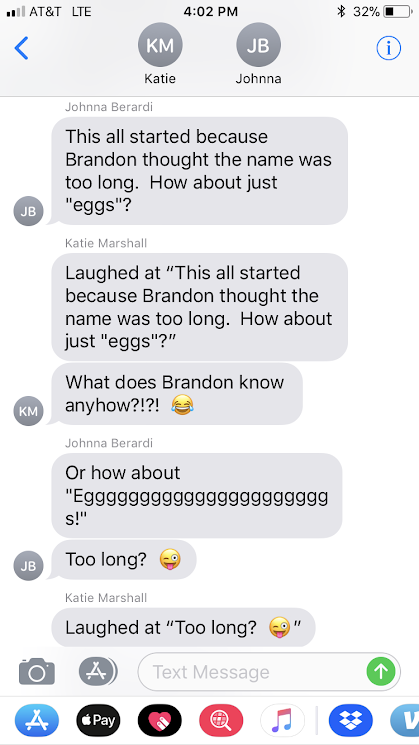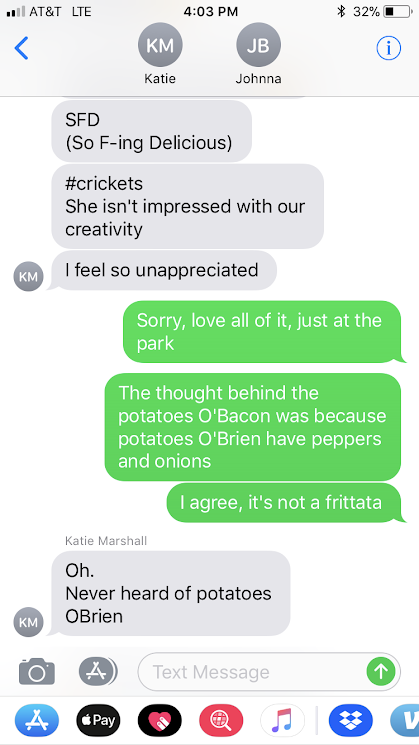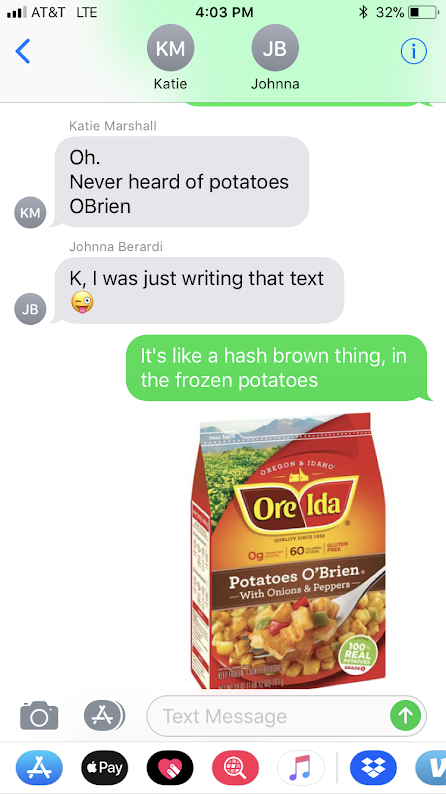 Back to business, this easy breakfast is perfect to meal prep and have waiting in your freezer for any morning. It has all the yummy flavors of Potatoes O'Brien without all the yuck additives and of course, bacon made it better. It is perfect for parties, it makes a ton; a whole sheet pan of 12 full breakfast portions or 24 party portions. I made this Whole30 compliant with a couple of bacon products that do not have sugar or other "things" but if those are not as much of a concern for you, you can purchase your favorite bacon and turkey bacon brands.
Potatoes O'Bacon Egg Bake
6 slices bacon, sugar free if you like
6 slices turkey bacon, sugar free
2 large bell peppers, diced
2 small or 1 large onion, diced
4 cups small red potatoes, diced
18 eggs
2 teaspoons salt + more for seasoning
2 teaspoons pepper + more for seasoning
1 tablespoon chives, I used freeze dried
- Place 6 slices of bacon (pork) on a large sheet pan and place into a cold oven. Turn the oven on to 400, once the oven is preheated to the temp, check the bacon and determine how much longer it needs to cook, it is usually good. Remove bacon and drain on papertowels.
- Add the diced potatoes to the sheet pan, season with the extra salt and pepper, and toss in the bacon fat. Increase the oven temp to 425 and roast for 30 minutes.
- While the oven is working, cook the turkey bacon in a large skillet until crispy. I had to do two batches to not crowd the pan. Set aside on a plate. Once both bacons are cooked and have cooled a little, chop into about 1/2" squares.
- Add a little oil to the pan and add the peppers and onions. Season with the extra salt and pepper and cook on medium-high heat until caramelized.
- Crack all 18 eggs into a large bowl, add the 2 teaspoons of each salt and pepper and the Tablespoon of chives. Whisk until it is a cohesive egg mix, no yolks still together.
- Once the potatoes are crispy, pull them out of the oven and lower the oven to 350. Distribute the potatoes to be even across the sheet pan. Spread the onion and pepper mixture on top of the potatoes, then layer on the bacons. Finally, pour the egg mix over all of it.
- Bake in the oven for 20 minutes, or until set in the middle, check for jiggle.
- Either cut a slice for yourself to chomp on right then. Or, cool completely and cut into 12 large squares. To freeze, wrap each square in cling wrap and place into a large freezer bag. To reheat, either thaw, unwrap, and microwave for 1 minute or unwrap a frozen slice and place into a cold oven and bake at 350 until preheated.
I found this Wellshire Farms turkey bacon at Whole Foods and it is sugar free and totally legit. I was only able to get 3 slices comfortablly in the pan at a time. They brown pretty quickly so watch it.
Diced peppers and onions are always a good idea, just place in a bowl while you are waiting on the pan to be ready.
Cool that bacon on a paper towel, chop the taters precious (Gollum), throw them on a sheet pan, season with salt and peppa and make sure they get jiggy with the bacon fat.
Splash a little oil of your choosing, I used olive oil, and saute these pretties.
Throw those seasonings in, whisk it like you mean it, then have a kitty love on your egg mix.
Assembly time!!! Taters, peppers and onions, bacons, eggs = perfection
Here's how I freezer prep them: pull out a long sheet of cling wrap, place a square on it, wrap it tightly (start like a burrito roll), place in a labeled bag (clearly I was still figuring out the name...) and freeze it. You can either thaw, upwrap, and microwave for a minute or unwrap, place on a oiled pan, and bake at 350 for a few minutes.